For the first-time home buyer the challenges of buying a home can seem immense. Even if you've narrowed down the options on the south carolina coastal homes that you're interested in, the toughest part of the homebuying process is still yet to come. It starts with the dream of owning your own home and the belief that you can do it. There are so many roadblocks in your way and so many things you just don't know. The dream often becomes scary and fragile. The First-Time Home Buyer Guide can help you push your dreams forward and make them a reality.
A Step-by-Step Process
The First-Time Home Buyer Guide covers the step-by-step process of buying your first home. The guide stars with saving for a down payment. It provides common sense information about what it takes to save for the down payment that makes buying your first home a reality. The guide will take you through the mortgage process and how to choose the best mortgage rate. It will tell you how and where you can save money from the purchase. You can read at your own pace and visit the guide often. Have your family and friends review the guide as well so your support team understands the things you need to do to be successful.
First-Time Home Buyer Guide Categories
The First-Time Home Buyer Guide is divided into five categories: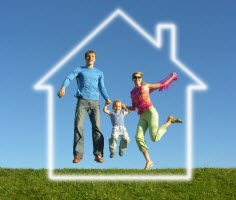 A. Saving for Your First Down Payment
B. How Much House Can You Afford?
C. The Mortgage Process
D. Choosing a Mortgage Rate
E. First Time Home Buyer Assistance
Easy to Use Menu
Use the full menu on the left side of every page in the First-Time Home Buyer Guide to navigate the sections and pages. Visit the guide often as you work through the process of buying your first home. You can use the Calculators and then when you are ready contact Vertuity Mortgage to talk further with a mortgage professional.