Having a mortgage consultation with a broker is a really good way to make sure that you're getting the best deal on the market to suit your individual requirements.  If you are looking to buy your first home in Canada, you can benefit from the services of a broker, and having a mortgage consultation is a great way take advantage of their in-depth market knowledge and expertise.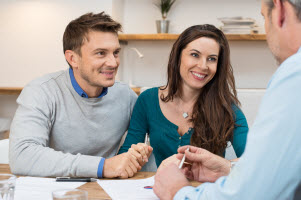 Using A Broker to Buy Your First Home
To enable the broker to be able to make the best decision. Generally, they like to learn about your real estate plans, whilst getting to know more about you.  Prior to getting a mortgage, there will be an information gathering period so that they can fully comprehend your goals and help you to make the best decision for your individual circumstances.
Brokers in Canada get paid directly by the lender, so you do not get charged a fee for their services. The mortgage consultation will allow you to talk with an expert in the mortgage arena, not only will they be up to date with the latest and greatest deal on the market, they also have a great deal of knowledge about the individual lenders too.
Broker fees are paid by the lender to the broker at no extra charge to the client. It's another way for banks to distribute mortgages instead of having to build branches and hire staff. Banks are happy to pay a broker a small finders fee. Also, a big benefit of the broker is the fact your broker is handling millions of mortgages monthly it is appealing to the banks to offer breaks in rates and certain products to broker that an individual can't get by doing one mortgage every five years. And by handling hundreds of transactions a year the broker is a pro and can help navigate through all the products available and the possible bumps in the road when buying a house.
During the mortgage consultation, you will be able to get advice from the broker and also guidance from them for the duration of the mortgage process too.  This can really help you to travel through the process smoothly whilst also significantly reducing the stress which can be associated with applying for a mortgage.
Another positive outcome you can get after a mortgage consultation is a great interest rate, or mortgage deal, much more so in some cases than if you would have gone direct to the borrower yourself.
Call Vertuity Mortgage today at (204) 888-4663
Working Out How Much Can You Lend
The first step in obtaining a mortgage is to determine how much money you can borrow.  In the case of buying a home, you should determine how much you can afford even before you begin looking.  This can all be discussed in details with your broker at your mortgage consultation meeting.  During this fact-finding meeting, you can work out roughly how much you are able to borrow.  It is also worthwhile doing some work prior to this meeting so that you know roughly the size of the down payment you are able to put forward too.
During your consultation meeting, your broker will help you to work out how much you will be able to lend, based on your income, outgoings and any savings or assets you may have.
Each lender has slightly different requirements, and although there are specific standards which they need to conform too, generally the decision on how much you can borrow will be based on your credit file, or credit history and your ability to pay the mortgage, which looks at your income and your employment history.
Having a mortgage consultation can help you to get the information you need, quickly.  It can also assist you to get the best rates possible and save you both time and stress throughout your mortgage process.
Having a broker to help you will mean that you benefit from an expert opinion and their knowledge. Additionally, the consultation meeting will give you the best starting point possible with which to move forward from and help you to work out exactly what you can borrow and help you to know what houses you can afford.