When looking for a new home, it is most likely you will need to work directly with a real estate agent to find your new house. After all, that's the only reason you are going through the mortgage process. You must locate a real estate agent you can trust. They should be someone who comes across as professional through their excellent marketing strategy. They should be very easy to find online on account of an effective SEO campaign similar to what can be found at http://victoriousseo.com/verticals/real-estate/. A good real estate agent will have the experience, the education and the in-depth knowledge of the property marketplace that you need behind you in order to get the best choice for your first home. Also, a great real estate agent will make you proud to display their Real Estate Signs outside your property. Working with a real estate agent can bring you quick, solid results.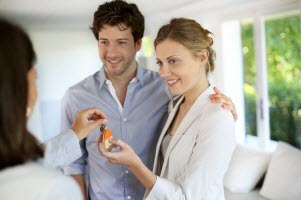 Understanding The Process
If you select the right real estate agent for your new home, then you don't actually need to know the ins and outs of the process because they are educated and licenced to sell properties, and they will handle most of the complicated matters on your behalf, this includes the paperwork you will need in order to comply fully with all regulations and rules that are in place.
Your realtor also has access to valuable home info from the Multiple Listing Service (MLS) that no one else can get so it is vital to use their experience and information to your benefit.
Finding your first home
For some people reading this, you may have already found your dream home from somewhere like https://rodrockhomes.com/ and working with a real estate agent is just a matter of course. For those of you who are still looking to find your perfect place, the process of searching for your new home doesn't have to sit entirely with your agent. You can use the internet, spread the word via your friends or colleagues, look for new development sites, or go walking around a neighborhood that you have identified you may wish to live in to look for the sale signs.
However, you find your house, working with a real estate agent is crucial, in order to stand the best possible chance of making an offer that is accepted on that property. After all, nobody wants to spend considerable time in order to find their new home, then quickly find out they have been pipped to the post by a better negotiator.
Your real estate agent will know the market inside out; they will know precisely where to look for your new home. Whilst there are many ways to try and locate your first home to purchase, it can often prove to be a waste of time if you don't know where to look and end up looking at the wrong type of house. You need to ensure that your new home meets your needs, and this is where your real estate agent will be able to put to use their inside knowledge of the condition of the market, and also their understanding of what is, and isn't selling.
Making an Offer
Once you have identified your new home, you will need to provide the seller with an offer to purchase. This is where the real estate agents training, education, and experience will really start to come into play. They can work with you on price and what you're willing to offer. They can also negotiate on your behalf and really earn their commission! The offer to purchase or agreement of purchase & sale as it can also be called is a legal document which requires careful preparation.
Once your real estate agent has submitted your offer, there are generally three different responses you can get back. Acceptance, a counter offer which you accept, or a counter offer that you reject.
As I'm sure, you can appreciate, working with a real estate agent is essential when looking to buy your first home. Not only can they really help you to narrow down your search and assist you to locate you new first home. Their extensive experience and industry education will almost certainly be needed when it comes to filling in the paperwork, making an offer that is accepted, and then getting that offer seen through to completion.