If you are thinking about buying a home in Canada for the first time, then most likely you are also trying to save towards your down payment. Over the past decade, Canada Mortgage and Housing Corporation have changed the amount you have been required to put forward as a down payment.  Although it has fluctuated from 25%, to 10%, to 5%, to 0% – putting a down payment of 20% is now considered to be the accepted standard.  In this article, we have expanded upon the importance of having a clear goal, firmly set in place, to help you save for your first down payment. We take a look specifically at five steps you can put in place to assist you with setting a goal to save for your first down payment.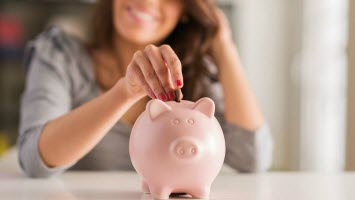 Be Realistic About What You Can Afford
Before you even begin to look for your first home in Canada, you first need to consider what it is that you want to get from your home and also decide precisely what you can afford to spend.   Looking at the basics first, such as location and size can help you to narrow this down.   Then, you need to consider the all-important fees.  This will, of course, include the mortgage, along with insurance, maintenance, taxes, homeowner association fees along with any other bills.   Having your 20% down payment means you will most likely not need to pay for Private Mortgage Insurance and could also lead to a lesser interest rate on your mortgage too. The more realistic you are about setting a goal to save for your first down payment the more likely you are to achieve it.
There are a few handy tools out there that can help you with these calculations.  CMHC being one, and Genworth offer another.
Have A Clear Plan and Stick to It!
Once you have ascertained what you can afford, and also the price range for the house you are going to buy, you will be able to work out roughly what that 20% figure will be.  Now that you have that target number in your sights, you will need to set about formulating your plan of attack – this is where things get really interesting!   How many years are you going to give yourself to reach this goal? Generally, 3-5 years is sufficient, but it can depend on whether or not there are two of you, how much your current outgoings are, how much you earn and so on.
Once you worked out roughly how much you feel you can save each month, or even how much you believe you need to put away each month.; you can start to lay out the precise plan of exactly how you will reach that down payment goal for owning your first property in Canada.  Always put pen to paper and write this down, having your plan written down, stored on your PC, laptop or phone ensures it is visible to you, and therefore real.  Just having a number in your head is not enough!
Sell-Off Any Assets
It may sound ever-so-straight forward, but many people have been able to raise money quickly once they have set their down payment goal by selling off assets, belongings or investments.  Do you have a car? Could you sell this and get a lower priced vehicle? Perhaps your car is a gas guzzler or has a large engine and is costing a lot to run – downgrading to a different vehicle could give you a nice injection of cash to put towards your goal, it could also help you to be able to increase the amount you can save towards your down payment too.   While we are on the subject of assets, this could apply to a whole host of things that you may own, perhaps you have a boat, or maybe even bonds or stocks you could sell. Setting a goal to save for your first down payment means figuring how you can go about achieving that goal.
Can you make more money?  Of course you can!
You have now formulated your plan of attack, and set in place a goal of how much you would need to save each month to help you reach your down payment target. It is time to get creative regarding how you can give yourself a boost to help you to achieve that number you have set as your down payment goal.    A promotion or salary raise is an excellent way to increase income, but in the current climate, it is not always a possibility.  If you are sitting there looking at a large number and, like most of us have commitments already in terms of your outgoings, you may wonder exactly how you can achieve this. If you have any assets, this will give you a significant boost, if not – don't worry.  Another great way to help reach that target is by looking at ways in which you can make more money.
You will not always need to take on a second, or third job, completely eradicating your social life for the next three to five years, but there could be other things you can do to give yourself a little boost.  Perhaps you have either spare time or a particular skill that you can put to use each month to help you earn a bit more.  There are countless freelancer websites now that offer you the option of making money online, perhaps you have a way with words and can help others to write resumes or job applications, you might even be able to babysit or tutor others to help you to bring in some extra cash. Hitting the garage sales at weekends and turning shabby into chic can also bring in extra dollars – whatever it might be, there are always options to earn more money!
Save, make cuts, and don't spend unnecessarily!
You can save money by not eating out so often. By purchasing things that you need as opposed to things you want.  Use coupons – yes coupons!  Cut down on your luxury items.  There is a lot to be said about waiting for the things you want; you find that a product, or experience is valued much more, if the period you have to wait for it is a little longer.  Preparing your lunch for work at home rather than paying for overpriced food elsewhere is another way you could easily save another $100 per month.
Although the above point is brief, it is perhaps the most crucial to all of the above being worthwhile, and for you to achieve the success you desire. There is absolutely no point whatsoever setting goals, making a plan, downsizing, and earning more money if you are just going to spend it flippantly on a whim.
Setting a goal to save for your first down payment is a critical step. To get your first home in Canada, you need to deploy self-discipline, and mean it!