First-time home buyers often struggle with saving for a down payment for the first home. It takes several years for the average first-time home buyer to save enough to make a down payment. The Home Buyers' Plan can provide assistance for Canadian first-time home buyers.
In 2016, the average price of a house in Canada is $474,590 according to the CREA.  The average first-time buyer would need to save approximately $23,730 to cover the minimum 5 per cent down payment.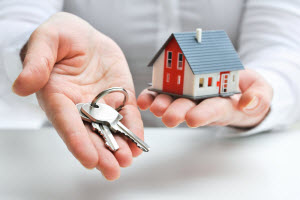 Since 1992 the Canada's Home Buyers' Plan (HBP) has helped approximately 2.8 million Canadians become first-time home buyers according to the Canadian Real Estate Association (CREA).
The Home Buyers' Plan allows Canadians to withdraw up to $25,000 from a registered retirement savings plan (RRSP) to buy or build a home. For couples, the amount available for initial capital is $50,000.  Each spouse is eligible to withdraw from an RRSP.
According to a poll by the Royal Bank of Canada, 59% of Canadians have an RRSP. If you've been contributing to your RRSP the Home Buyers' Plan may be for you.
An RRSP is a retirement savings plan registered with the Canada Revenue Agency that can hold different investments such as cash, stocks, bonds, mutual funds, etc. Most employers offer an RRSP program to automatically contribute to your RRSP directly from your pay cheque.
Contributions you make to your RRSP are tax-deductible. You can deduct the amount of a contribution from your total taxes owed when you complete your annual return. Also, investment earnings are tax-deferred. You're only taxed when you withdraw from the plan.
The Home Buyers' Plan allows you to withdraw up to $25,000 from your RRSP on a tax-free basis for the purchase of your first home. The withdrawal isn't taxable as long as you pay it back within a 15-year period.  Also, the withdrawal isn't included in your current income and it isn't subject to withholding taxes in the year of the withdrawal.
There are some guidelines to follow to be eligible for the program.
You are a legal Canadian resident
You haven't owned a home the last four years
If you've used the Home Buyers' Plan before you can't have an outstanding balance
If you have a spouse who isn't a first time homebuyer, you haven't lived in her or his house for four years
You have a written agreement to buy or build a qualifying home
RRSP funds for withdraw have to be in your account for at least 90 days prior
You have to withdraw from your RRSP within 30 days of taking possession of the home
You don't have to pay income tax on the amount withdrawn as long as the funds are repaid in the future
Qualifying homes include single-family homes, townhouses, apartments in a duplex, semi-detached homes, triplex, quadruplex or apartment building
If you and/or your spouse meet these eligibility requirements, each of you can withdraw up to $25,000 from your RRSP's.  Together it's a total of $50,000.
The Home Buyers' Plan is a loan. You repay the amount you withdraw from your RRSP within 15 years.  The first payment is due within two years from when you first withdraw the money. You'll need to plan ahead for this payment. There are a lot of expenses with a first-time home in the first couple of years.  You don't want to get behind on the repayment of your HBP loan.
If you've been contributing to your RRSP, the Home Buyers' Plan may be a great source of capital to help with your down payment.